Safari iPhone Export Template
This iPhone export template, written by DVDpedia user
Burkhard Mudrick
, also known as Mac-Cypher on the Bruji Forum, is a sibling to the sleek
Dark iPhone
template for the iPhone and iPod touch.
It also includes a jewelcase display for the cover images, many fields but in collapsed form so you don't have to scroll around a lot and has a very clean, light look modelled on Safari. For best performance, sort your collection by a column such as Genre before export.
(Please note, this is the 'midi' version of his template. If you'd prefer a version with all the fields included or a minimal one with just the essentials, head on over to his
website
to download those.)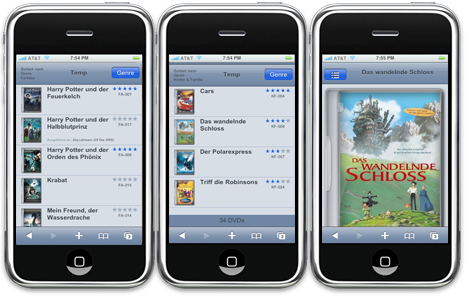 To have the template automatically install itself in DVDpedia, use the 'download and install' link.
If you'd prefer to download the template and then install it manually (i.e. double-click the file or drag it over the DVDpedia icon), use the 'download' link.
If you would like to change the template or write your own, have a look at our
how-to section on templates
.