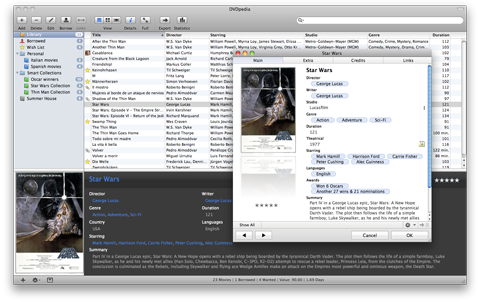 DVDpedia is a movie cataloging application for Mac OS X. To save you time and effort, it retrieves all the information from the Internet via keyword or UPC scan, so you have time for more important things, like watching movies.

It's a big world
DVDpedia lets you retrieve information about your movies from numerous international movie sites as well as the
IMDb
,
The Movie Database (TMDb)
and
Doghouse
, the Pedias' own database. To search, use keyword combinations - movie title, director, actor, studio, etc. - or if you have a scanner or a webcam scan the UPC and let DVDpedia do the rest.
As you like it
Set up collections to organize your movies just the way you want. That sounds like too much work? Then use the smart collections and have DVDpedia do it for you. The list view is not your thing? Then display your movies in grid view and browse them just like you would in a video store. Or if you like your display with a bit of personality, customize the details view just the way you like it. Have a look at the screenshots below to get a taste of the possibilities.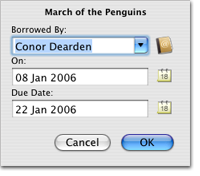 Share the love
Your movie collection says a lot about you. So don't be shy and let the world know what you have on your shelves. With DVDpedia's HTML export feature this is easier than ever. Choose the template you like or write your own and upload it. And once your friends see what you have, manage the borrowing frenzy with DVDpedia's Borrowed collection. That way you always know who took what and when, along with a little reminder when to start nagging your friends to bring the movie back.
Seeing is believing
These are just a few of the many outstanding features DVDpedia has to offer. To really see what DVDpedia can do for you and your movie collection, download the free demo version now and have a look for yourself. The demo version limits you to adding 25 movies but is otherwise fully functional. To remove the restriction, buy DVDpedia here or from within the application.
Check out the bundle prices at the top of the page if you're also interested in our other Pedias.
Screenshots

Version: 5.2 (14.3 MB)
Requirements: OS X 10.5+
What's new?
Sync your DVDpedia collection to your iPad, iPhone and iPod touch with
Pocketpedia 3
.
Feature Highlights

Full screen mode (view and play)

Apple Remote compatible

Over 15 international search sites

iSight & scanner integration

Bluetooth connection enabled

Customizable HTML export

Link entries to URLs, files, images, Video_TS folders or other entries

iPod export

Spotlight integration

Quick Look integration

Borrowed feature with due date

Address book integration

Wishlist collection

Database statistics

Library-independent collections

Self-updating smart collections

Folders for better organization

Customizable details view

Spanish, French, German, Italian & Dutch localizations
Raves and reviews
Have you seen the other Pedias?