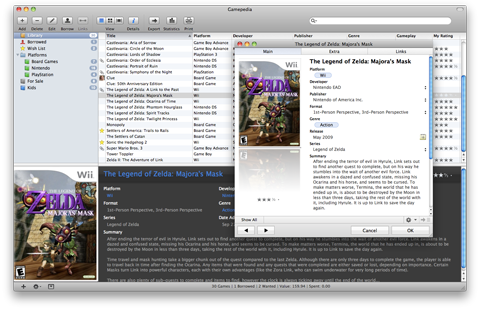 From Pong to Halo 3, Atari to Kinect, Monopoly to Carcassonne - Gamepedia is a video and board game cataloging application for everyone running Mac OS X. It lets you keep track of your game progress, where your games are and which ones you want to buy in the future.

It all fits
Getting your collection into Gamepedia is easy - just let the program do the work for you. Enter the title or keyword for a game into the search field and Gamepedia gets all the information for you from one of the different search sites it has access to, including
Doghouse
, the Pedias' very own database. Find your games even faster with an iSight or a scanner. Just open a search window and scan the UPC. Cuecats, modified or not, are supported too.

Link it
You just started playing a new game and already found three different walk-throughs, a great cheat page and some awesome screenshots. How are you going to keep track of all these sites? Link them to your entry in Gamepedia. Just drag any URL over the details view and it'll automatically become part of the entry. Then when you want to get back to a site at a later point, just click on the link in the details view.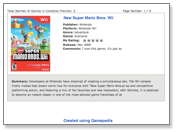 Always online
Whether you have all the latest games or just a fun collection of old-school Nintendo, let everyone know about it. Gamepedia's HTML export puts your collections online fast. All the templates are fully customizable too so you can give it your own style. Share your creations with other users too on our
Extras page.
Cross the finish line
These are just a few of the great features you'll find in Gamepedia. To really see what Gamepedia can do for you and your game collection, download the free demo version now and have a look for yourself. The demo version limits you to adding 25 games but is otherwise fully functional. To remove the restriction, buy Gamepedia through our webstore, from within the application or in the Mac App Store.
Check out the bundle prices at the top of the page if you're also interested in our other Pedias.
Screenshots

Version: 5.2 (11.4 MB)
Requirements: OS X 10.5+
What's new?
Sync your Gamepedia collection to your iPad, iPhone and iPod touch with
Pocketpedia 3
.
Feature Highlights

Full screen mode (view and play)

Apple Remote compatible

Search access to international sites

Board game support

Add links to URLs, files or images

iSight & scanner integration

Bluetooth connection enabled

Customizable HTML export

Customizable details view

Automatic iPod export

Spotlight integration

Quick Look integration

Borrowed feature with due date

Address book integration

Wishlist collection

Library-independent collections

Self-updating smart collections

Folders for better organization

Database statistics

Spanish, French, German, Italian & Dutch localizations
Raves and reviews
Have you seen the other Pedias?