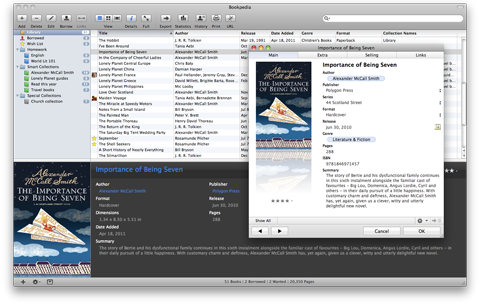 Whether books line every wall of your house or barely fill one shelf, Bookpedia is the perfect application to help you keep track of them. Entering the information for each book is fast and easy because the program retrieves all the information from the Internet for you. So you can sit back and relax with a good book.

Oh, the places you'll go...
To retrieve information about your books, Bookpedia gives you access to numerous international search sites as well as the Library of Congress and the Pedias' very own online database,
Doghouse
. In addition, Bookpedia also lets you access libraries attached to the z39.50 server system. Search for your books using keywords - for example by title, author, publisher, ISBN or a combination of them all - or if you have a scanner or a webcam, scan the UPC and let Bookpedia do the rest.
Keep it clean
If your books are all in a jumble, Bookpedia will help you organize them, at least on your computer. Create as many collections as you like to sort your books or if you want Bookpedia to do the grunt work for you, set up smart collections. Enter the criteria for the smart collections and they will update themselves automatically each time a new book is added to the program. There is even a dedicated collection for books you don't own yet - the wishlist collection lets you add books without actually adding them to the library so you can keep those entries apart but still remember them for the future.

Know thy shelf
Whether you have 15 books or 1500, chances are your friends will want to borrow them once in a while. Thanks to Bookpedia you won't have to worry about seeing a book again or forgetting who took it in the first place. The borrowed collection helps you keep track of who took which book at what date and when they were supposed to return it. And if it's not back in your library by that date, Bookpedia can automatically send an email to the borrower.
Learning by doing
These are just a few of the many wonderful features Bookpedia has to offer. To really see what Bookpedia can do for you and your library, download the free demo version now and have a look for yourself. The demo version limits you to adding 25 books but is otherwise fully functional. To remove the restriction, buy Bookpedia here or from within the application.
Check out the bundle prices at the top of the page if you're also interested in our other Pedias.
Screenshots

Version: 5.2 (12.5 MB)
Requirements: OS X 10.5+
What's new?
Sync your Bookpedia collection to your iPad, iPhone and iPod touch with
Pocketpedia 3
.
Feature Highlights

Full screen mode (view and play)

Apple Remote compatible

International search sites and access to z39.50 library servers

iSight & UPC scanner integration

Bluetooth connection enabled

MLA style bibliography export

Add links to URLs, files or images

Borrowed feature with due date

Address book integration

Wishlist collection

Customizable HTML export with BibTex & EndNote templates included

iPod export

Spotlight integration

Quick Look integration

Customizable details view

Library-independent collections

Self-updating smart collections

Folders for better organization

Database statistics

Spanish, French, German, Italian & Dutch localizations
Raves and reviews
Have you seen the other Pedias?