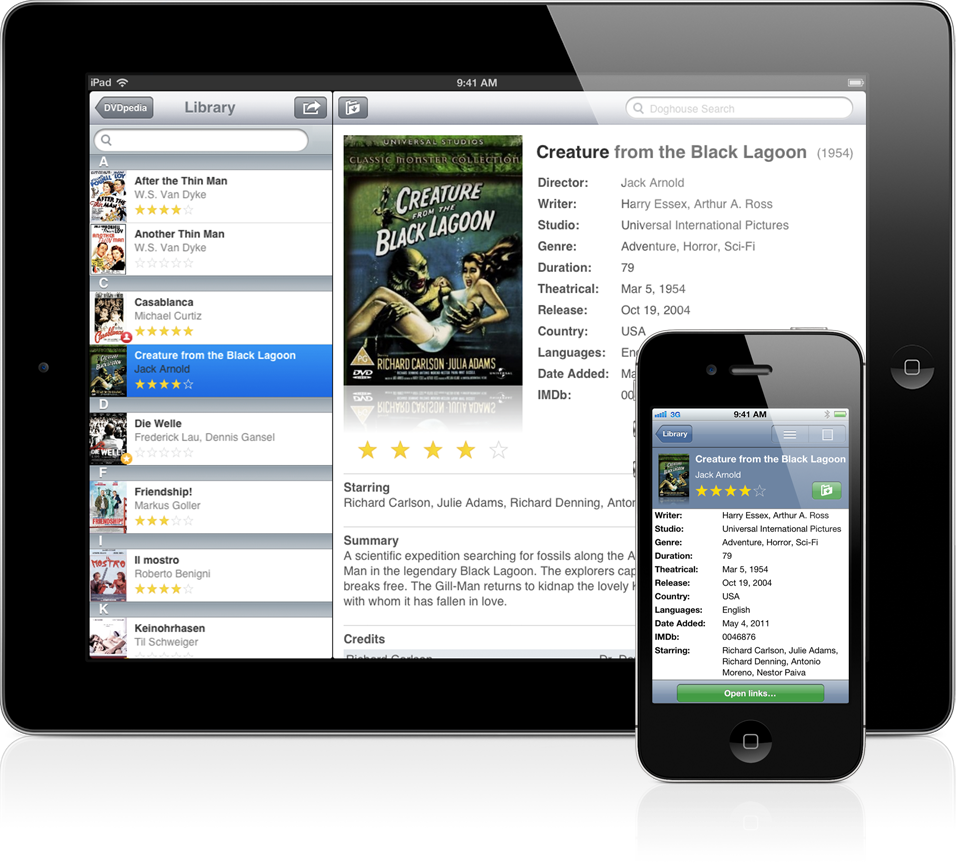 Forget pen and paper to remember books you want to buy or DVDs you'd like to rent. Use Pocketpedia 3 on your iPhone and iPad to keep your media library right in your pocket. Sync your data from DVDpedia, Bookpedia, CDpedia and Gamepedia and hit the road.

Sync me up
Use the Pedia programs on your Mac to sync your media collections with your iPhone and iPad. Just run your Pedia programs and tap the 'Sync' button in Pocketpedia 3. (Make sure your computer and your mobile device are connected to the same wireless network.)
The first sync will take longer, especially for large collections, because the program has to sync over all the cover images. Subsequent syncs will be much faster because the program only needs to sync the information that has been edited or added.
For troubleshooting tips and help with Pocketpedia 3, check out one of the Help files on the right.

Preferences for sync and search
To speed up your first sync to Pocketpedia 3 as well as save space, you can choose to sync only the small cover images. Go into your iPhone Settings > Pocketpedia3 and turn "Large Covers" OFF. Please note - when you tap the cover image button for an entry while you are on a wireless network, Pocketpedia 3 will still download the large cover for the entry.
By default Pocketpedia 3 searches only the fields that are shown in the collection display, i.e. the entry's title and subtitle (the director, author, artist or platform.) If you'd like Pocketpedia 3 to search through all the fields, go into the iPhone Settings > Pocketpedia3 and turn "Search All Fields" ON.
Screenshots
To quickly get to the search field at the beginning of a collection, double-tap the status bar (at the very top of your screen).


To do a 'clean' sync, i.e. sync over your entire database again including cover images instead of just updating it, hold down the Option key on your keyboard and press the Sync button in Pocketpedia 3.


Version: 3.1.3 (2.7 MB)
Requirements: iOS 4.3+
iPad, iPhone or iPod touch
Version 5.1.7+ of the Desktop Pedias
What's new?
Feature Highlights

Two-way sync from and to the Mac

Mark entries as borrowed, returned or bought

Add new collections

Optimized for retina display

Address Book integration

No collection size limit (SQL format)

German, French, Spanish, Italian and Dutch localizations
Pocketpedia 3 Help
Check out the Pedias for Mac
Raves and reviews